Deionization Resin Replacement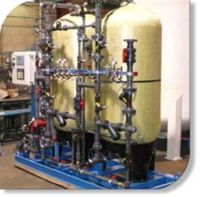 Deionization or Ion Exchange, is the removal of ions from feedwater by synthetic resin beads. The resin beads are divided into two classifications, Cation and Anion. There are mixed bed (resins in a single vessel) and 2-bed systems (each resin in its own vessel).
In a mixed-bed system, removal of impurities is accomplished through ion exchange as the water passes over separate layers of resin.
The first layer contains a cation resin to remove dissolved anions (positively charge particles), such as calcium, magnesium, and sodium. The second layer contains an anion resin to remove dissolved cations (negatively charged particles), such as alkalis, chlorides, sulfates, silica and carbon dioxide.
When the resins become exhausted, a regeneration cycle is completed. To regenerate the resin, a solution of regenerant chemicals is passed through the resin in a downward direction.
JDM Company, Inc. provides sales and service for both mixed bed and 2-bed systems. Whether you need a complete new system, replacement parts, including the internal components within the vessels or on-site resin exchange, JDM Company, Inc. has the capability to meet all your needs.
Contact us
JDM Company, Inc
210 Tyngsboro Rd.
North Chelmsford, MA 01863
Phone: 978-458-0059
eMail: jdm@jdmcoinc.com