Carbon
Activated carbon is widely used in water filtration systems. Carbon is very effective at improving taste, removing chlorine and many other contaminants'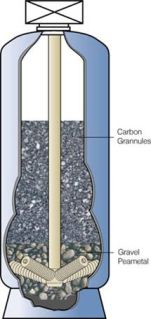 Activated Carbon Uses adsorbsion to remove contamination.
Chlorine and organic contamination "sticks" to the surface of the carbon.
Activated Carbon requires periodic backwashing to eliminate accumulated suspended matter and to re-grade the filter bed.  The frequency of backwashing is site specific.  JDM will gather the information required (chlorine levels, input and output psi, etc…) to determine the frequency for each individual.
JDM Company, Inc. provides sales and service of carbon filters.
Whether you need a complete new system, replacement parts or on-site
removal of spent carbon and installation of new carbon, JDM Company, Inc.
has the capability to meet all your needs.
Contact us
JDM Company, Inc
210 Tyngsboro Rd.
North Chelmsford, MA 01863
Phone: 978-458-0059
eMail: jdm@jdmcoinc.com