The JDM Company, Inc. is a full-service and sales company with over 25 years of experience in the water purification industry. We offer a wide range of services including Passivations, Chemical Cleanings and Sanitizations to ASTM Standards. JDM Company, Inc. has competitively priced resin and filter media exchange programs. Our services include on site emergency services, scheduled preventative maintenance, quality replacement parts and the experience and knowledge to troubleshoot problems on most major manufacturer's industrial water purification equipment.
If you have any questions, comments, or problems, please contact us at jdm@jdmcoinc.com.
Services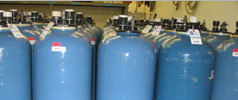 JDM Company, Inc. has the capability of performing passivations and chemical cleanings at your facility or ours, should the equipment be portable.  Our media exchange programs are ideal for those who require portable systems that produce high purity water.  We offer preventative maintenance service based on your schedule and demands. 
Our Clients